Automatic Sprinkler Systems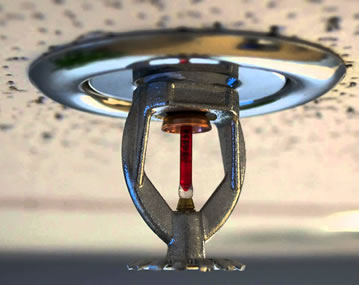 Overview
The most effective way to control a fire is through a fully automated sprinkler system. Sprinkler systems can extinguish the blaze quickly, or prevent it from spreading until the fire department arrives. They automatically transmit an alarm and extinguish the fire. Sprinkler systems work only as and where needed. A sprinkler system can be the difference between a minor interruption and a major catastrophe.
Sprinklers save lives and protect your products, equipment, and more-action systems are often used in storage freezers and computer applications. These systems are activated by an automated detection system. Charged with air these pipes prevent the unwanted release of water into the risk.Properly prepared performance specifications and drawings for fire sprinkler system designs will minimize change orders, reduce scheduling delays, and mitigate requests for information (RFI). This article provides guidance on some of the basic information that should be provided in performance specifications and drawings.
A performance specification fire sprinkler system drawing should identify the operational requirements of the system, leaving the design layout, measurements, and other specific details to the contractor. Performance specifications can have benefits and drawbacks for the owner. One benefit is more scope is provided to the contractor who may adopt a more cost-effective approach, offering better value. One drawback is that a lack of well-defined performance requirements leaves the end results to the contractor's imagination.
Fire protection, especially fire sprinkler and fire alarm systems, there are many options available to a contractor for achieving a code-compliant end result. This variety of options leaves the gates wide open to inflated installation costs or a product that may not be in the best interest of the owner. In the case of a fire sprinkler system, a performance specification should include the following at a minimum:
A consideration of the range of hazards and commodities within the project.
A hazard analysis and hazard classification for the intended occupancy, including any special hazards.
A list of the applicable codes and standards.
An analysis of the available water supply.
A determination of the appropriate design density and area of operation for each of the hazard areas.
Beyond these fire protection engineering principles, owner-specific requirements need to be well-defined. Those may include preferences for sprinkler types, trim colors, or specific product vendors. It may also include design approaches and/or system components prohibited by the owner. Well-defined performance specification drawings provide an owner with control over the design, limit the quantity of RFIs, and reduce change orders. Although specific installation methods may be left up to the installing contractor, something as basic as whether the sprinklers are chrome or white can result in significant cost differences late in a project. The use of outdated codes and standards can create installation challenges and scheduling delays. Involving a qualified engineering firm early in the design process is an investment towards a successful project.